After pushing the iTunes 9.0.3 update yesterday Apple today released the iPhone OS 3.1.3 for iPhone and iPod Touch users, the latest update to iPhone firmware offers basic bug-fixes and stability improvements as detailed after the jump.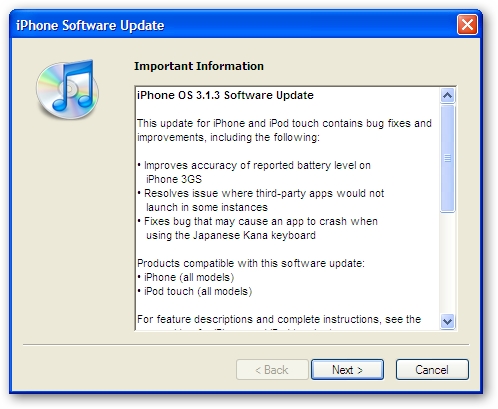 iPhone OS 3.1.3 Software Update Features :

This update for iPhone and iPod touch contains bug fixes and improvements, including the following:

• Improves accuracy of reported battery level on iPhone 3GS.
• Resolves issue where third-party apps would not launch in some instances.
• Fixes bug that may cause an app to crash when using the Japanese Kana keyboard.

Products compatible with this software update:
• iPhone (all models)
• iPod touch (all models)

iPhone Firmware 3.1.3 Direct Download Links :

* Download iPhone 2G 3.1.3 OS
* Download iPhone 3G 3.1.3 OS
* Download iPhone 3GS 3.1.3 OS

If you have a jailbroken and/or unlocked iPhone/iPod Touch here is some advise from iPhone Dev Team regarding the update :

If you care about your jailbreak and unlock, don't update your device - 3G and 3G(S) owners should pay particular attention to this warning.

* PwnageTool and redsn0w are not yet compatible with 3.1.3
* There is no estimated release time for compatible tools (please don't bug us about this).
* Any information we have regarding this update will be posted here.
* You can also follow us on twitter - @iphone_dev

Update 1: [Don't go near this if you have 3GS, newer ipt2G, or any ipt3G] Thanks to daring experimenters in the comments, we can confirm that yesterday's redsn0w works for today's 3.1.3 update for iPhone 2G. Just point it at the 3.1.2 iPhone 2G IPSW after doing update or restore to 3.1.3. So far we've only confirmed this for iPhone 2G. (Note that if this does work for iPhone 3G too, you can *only* use it if you don't care about the unlock.)

Update 2: [Don't go near this if you have 3GS, newer ipt2G, or any ipt3G] Can confirm that this method works for iPhone 3G and iPod touch 1G too. Don't do it for iPhone 3G if you need an unlock though (really, don't!). For older iPod touch 2G, we'll need a small (1-character) change in redsn0w source.

Update 3: [Don't go near this if you have 3GS, newer ipt2G, or any ipt3G] For those with older (non-MC) iPod touch 2G, we've compiled a special version of redsn0w meant just for you: Mac and Windows. You guys can get in on the "3.1.2 loophole" too using this special version. Don't try this if you have a newer iPod Touch 2G or if you're not completely sure what version you have. And of course don't try it for 3GS or ipt3G either.

That about does it for the 3.1.2 redsn0w loophole. It can only be used by: those who don't need the 3G/3GS unlock, and only owners of iPhone 2G, iPhone 3G (not unlockers!), iPod 1G, and iPod 2G older version. Everyone else please wait for official support in the tools.